B&B Il Terrazzo Accommodation in Umbria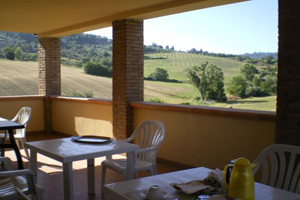 to ours Bed & Breakfast because it is economic and in central position to reach low Tuscany and the tall Lazio. Orvieto in Umbria, yes Orvieto in umbria but central position to reach Florence (165 kms) and Rome (100 kms), bed and breakfast in Orvieto, besides Orvieto is an optimal city to visit Civita of Bagnoregio "the city that dies" (20 Kms), the lake of Bolsena (20 Kms),as well as the inside zones of the umbria, Todi, Spoleto, Perugia (65 Kms) and Assisi, Spello, the valley of the Nera one with the Fall of the Marmores (70 kms)
The Bed and Breakfast is located in the highest part of Sferracavallo, a small town located about 1 km from Orvieto. His back to the rest of the country, "the terrace" overlooking the countryside at the foot of the cliff, topped with the oldest part of the city. In the evening, view from the "balcony", it seems a little crib.
B&B - Bed & Breakfast - bed and breakfast
synonymous with hospitality, if you are looking for a place for your stay in Umbria is our B & B, has a cheap price for a holiday or weekends and that you can choose according to your needs, our B & B in fact provides available:
"White Room" for short holiday or weekends an intimate room with bath and breakfast.
"White Room" with kitchen use

Orvieto..." The Cliff "
The Cliff side on which Orvieto stands and which rises up above the medieval region can be seen from the "terrazzo" of the house, B&B placed to the feet of the Cliff of Orvieto to 1 Kms from the historical center, attainable also from elevators or from mobile staircases obtained to the inside the rocky mass
Some images of the Bed & Breakfast and from the Bed & Breakfast in Orvieto, to brief distance the Cliff. She is often called this way: La Rupe. And it is really what is, a block of rock that suddenly it jumps out of the lowland, without warning, with practically vertical walls. It formed you thousand years ago around 100, when a dreadful eruption deposited layers of volcanic earth and volcanic rock and then....the water and...the time....they did the Cliff of it.
© 2012 www.bebilterrazzo.it - info@bebilterrazzo.it - Legal and Privacy Policy and Cookie Policy